Since 2009 our Skills, Education and Training programmes have enabled over 6000 people to gain qualifications and progress in life.
Our courses harness the 'power of sport' to positively engage learners who otherwise may struggle educationally.  Clients including Central Government, Colleges, Prisons and Local Authorities recognise how sport can engage learners in a way that almost no other subject can.
Our tutors expertly blend practical sport with robust, academic modules to create a unique learner experience.  Over 92% of learners (2017-18) gained nationally accredited qualifications and successfully progressed into education and/or employment within 12 months.
IMPACT
Some headline figures highlight the positive impact our unique programme offers (from 2017-18):
Success Rate: 92%
Retention Rate: 84%
Progression Rates: 93%
Learner Feedback: 98% Satisfaction
Client / Parent Feedback: 94% Satisfaction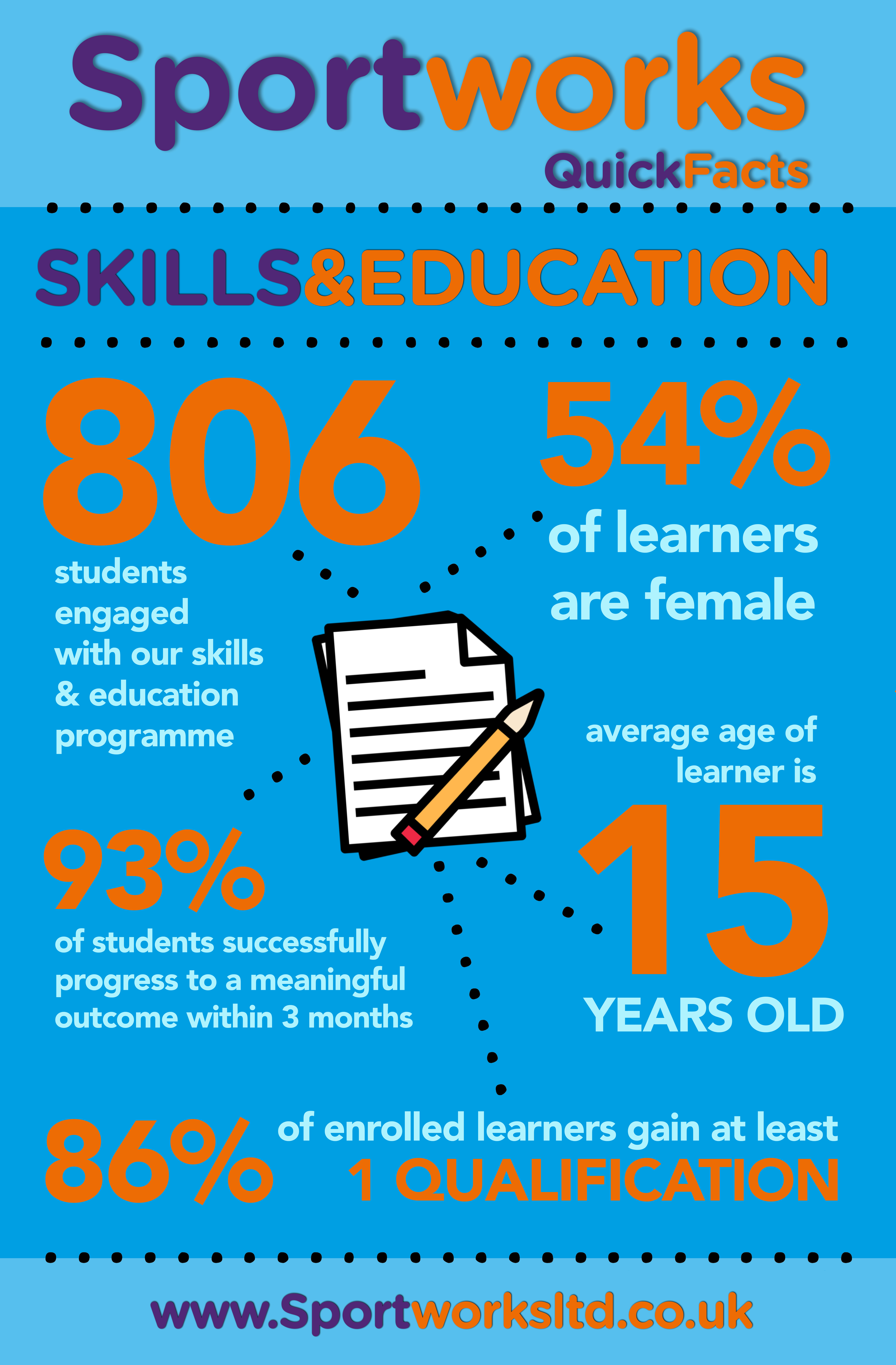 ROBUST EDUCATIONAL STANDARDS
Blending high quality, nationally recognised accreditations with vocational and practical sport is central to our approach – and something we take seriously.
We have invested in training and quality systems resulting in kitemarks from Central Government (ROTO: Register of Training Organisations; RoATP: Register of Approved Training Providers) and have been audited by the ESFA (Education Skills Funding Authority) who found our processing standards to be 'outstanding'.
Sport Works is also an approved centre with both NCFE and Sports Leaders UK which enable us to deliver high quality, internationally recognised qualifications to our learners.
FUNDED PROGRAMMES
Sport Works has secured Government funding to offer the following programmes free of charge – please contact us if this would add value to your learners:
Study Programme: 100% funding for learners aged 16-18 years, including those unemployed or with Special Educational Needs (SEN)
Adult Education Budget:  100% funding learners aged 19+, including those unemployed or with SEN
European Social Fund:  100% funding for learners aged 15-24 who face economic disadvantage